3 Property Loan Cheat Codes: Increase Your Chances of Getting a Property Loan in Singapore Approved
According to the Urban Redevelopment Authority (URA), the private residential property index rose strongly by 10.57% during 2021, up sharply from the prior year's (2020) 2.21% increase.
Singapore's housing market is undoubtedly strengthening, and the gradual upturn in the economy certainly presents an opportune time for many businesses to either purchase their own space or invest in commercial properties.
Here are 3 easy-to-follow "cheat codes" on how you can increase your chances of getting a property loan in Singapore approved.
1. Reduce your Total Debt Servicing Ratio
TDSR includes monthly debt obligations, and it applies to both individuals and sole proprietors. It can be easily tabulated by dividing your total monthly debt repayments (including personal financing, car financing, as well as the monthly repayments required for your loan application) by your gross monthly income, as seen above.
There is a Total Debt Servicing Ratio (TDSR) of 55% imposed by MAS and it expects all property financings subject to the TDSR framework to not exceed the maximum TDSR threshold of 55%.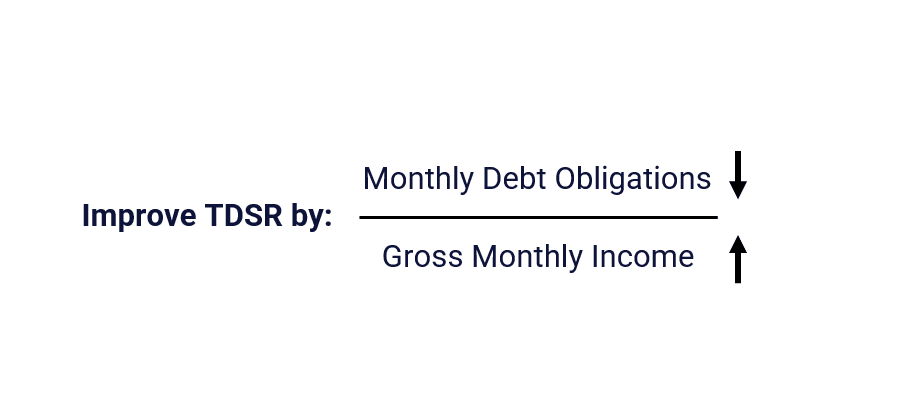 You can improve your TDSR by reducing your Monthly Debt Obligations and/or increasing your Gross Monthly Income as seen above!
How you can reduce your Monthly Debt Obligations:
Use debit cards or cash instead of your credit card 2 months before your application. You should also avoid applying for other new credit facilities 2 months prior to your property financing application, and cancel all other credit cards that are not in use. This not only helps to remove any outstanding debts and better keep track of all your bills, but it also helps in preventing the possibility of overspending and encourages good payment behavior over time, which will improve your credit score in the long run.
Avoid taking on additional loans 2 months before your Property financing application. The less you owe, the less likely you are to breach the TDSR limit.
How you can increase your Gross Monthly Income:
Declare all your additional income to IRAS, such as your income from your other freelance work (if any), rental income, bonuses, commissions, etc. to raise your effective income level.
2. Refinance your car using private hire purchase financing.
If your car is under a bank hire purchase loan, you can do a refinance to in-house loans from private financiers such as Tan Chong Motors and Abwin leasing, etc. through a dealer (Note that not all dealers can help you to do that).
This would aid in your TDSR as explained above since the debt would not be reflected in your credit bureau as Banks will not know that you have an existing Car loan.
3. Check your Loan Amount eligibility for Property Loans
Please note that there are no more IPAs in the market! Since 2019, the banks have stopped this IPA process, and yet, many "gurus" still feel the need to tell you to obtain an IPA. That is old-school thinking.
Nowadays, a banker can only help you access and give you a rough estimate for your credit eligibility amount; they are unable to give you assurance or in other words, an exact confirmation on your loan approval unless you have your Option to Purchase (OTP) secured. So, instead of trying to obtain an IPA that does not exist anymore, it would be wiser to work towards finding out your credit eligibility (do seek help from your banker or Bizsquare) based on your annual income and determine the property price range you can afford. Once the property price range is determined, it is time to find the perfect property within your budget!
We hope that these "cheat codes" are useful in providing you with valuable insights and our experienced consultants here at BizSquare will always be around to provide you with further professional advice and assist you in securing the property loan in Singapore you desire.
If you're interested in applying for a property loan in Singapore, look no further!
For more articles, hesitate no longer and check out our socials!
BizSquare
is a one-stop business consultancy firm providing Loan Consultancy Services, Accounting and Corporate Secretarial Services, Branding and Marketing Consultancy, Strategy Management and Start-up Mentorship.