BIZSQUARE MANAGEMENT CONSULTANTS PTE LTD
OUR FOUNDER & CEO, MELVIN HO
Melvin is an award winning serial entrepreneur. Practicing Management Consultants (PMC) from SBACC recognize by SPRING, Enterprise SG and WDA; and a SGtech Business Mentor.
Melvin started young as an entrepreneur in F&B sector when he is 18, running a yogurt shop. He sold of the business after 4 years (at a 10x valuation) and started his banking career in 2009 as an Assistant Corporate Relationship Manager at DBS Bank, looking after portfolios of multinational companies. He is a credit analyst and doing credit approval work.
He then pursues his next bank job in Bank of America credit department in 2010 doing Corporate Credit Analysis and Approval work as an Operations Team lead. He then moved to UOB as a Senior Business Financial Manager, dealing with SMEs of Singapore on getting financing for the SMEs. He deals with trade financing, business loans, commercial property loan and other financing requirements required by the business owners.
After 5 years in the corporate world, he decided that he has a bigger mission in helping the SMEs in Singapore to succeed. He decided to take the leap of faith and quit his corporate job and started his 2nd Venture – Bizsquare Management Consultants Pte ltd in 2013.
In 2014, he also started a IT and branding company, Aquarius 21 Solutions Pte Ltd (where it has changed its name to Mattherns Pte Ltd now).
Since February 2016, he has been awarded by SBACC (Singapore Business Advisors & Consultants Council Limited), a Singapore Government Organization, for being Practicing Management Consultant (PMC) under SPRING Singapore, IDA Singapore, WDA Singapore and IE Singapore. This has given him opportunities to do consultation work for government bodies. Since young, he always had a burning passion for finance, and it motivates him to create success in this industry.
After receiving PMC, other than advising Small and Medium Enterprise, Bizsquare has since begun doing many advisory works for MNCs and government related bodies as their clients.
Melvin Ho also work as an Executive Director in Xingang Investment Pte Ltd in 2016; where he specialized in managing multi-million funds of credit investment portfolio and assessing the emerging SMEs, each under SGD100 million assets. He exited Xingang in Dec 2017 after making strong profit for the company. He also started a SME loan company in Jan 2018 called Fundopia Pte Ltd where they fund the SMEs in a short-term basis to help SME on cashflow management; he has also
started a crowdfunding business called Capmarket and has successfully exited.
In 2019, he was awarded certificate of Mentorship where he became a certified mentor in the SGTech community. With his efforts, Bizsquare will be able to help SMEs improve their cashflow and provide a turnkey to improve their business – as seeing companies grow is  always Bizsquare's goal.
Melvin Ho has more than 13 years of banking and financial experience in the local SME and Corporate banking market. The past career history of Melvin has exposed him to carve many niches in the regional financial market; from managing clientele relationship to an outstanding team leader in business units situated in the local and foreign banks. Melvin Ho is an expert in the industry for loan origination, structuring, syndication, relationship management, credit risk as well as fund management. His understanding of how companies deliver objectives and sensitive business acumen has been invaluable to his numerous clients.
In early 2020, he joined Seed Venture (a seed-stage Venture Capitalist firm) as a Venture Partner. As a personal side interest, he enjoys mentoring and incubating SMEs to see them grow into successful businesses. Melvin Ho leads his advising companies to new milestones, by providing business advisory for turnkey in their businesses. He is also a property lover and very familiar in how to invest in property in the most profitable way. In 2020, he has also obtained 3 more awards for Bizsquare, namely, Asia Excellence Award 2020, Singapore Entrepreneur Award 2020/2021 and Business Trust Award 2020.

In 2021, he has also awarded Young Entrepreneur of the Year 2021, under the category of Economy and Job creation for Singapore. He was awarded for his enthusiastic achievement in helping the Singapore economy and successfully help many business owners.

Melvin Ho holds an MBA and has a Bachelor of Commerce (Finance) and is also a certified practitioner of Neuro-Linguistic programming. Melvin believes in constantly upgrading oneself and lifetime learning. He has been attending many courses to enrich his knowledge and skills in all areas such as business management, investments strategies, digital marketing and so forth, spending a total of over $50k on these courses.

In his free time, Melvin plays squash and enjoys spending time with his family. ​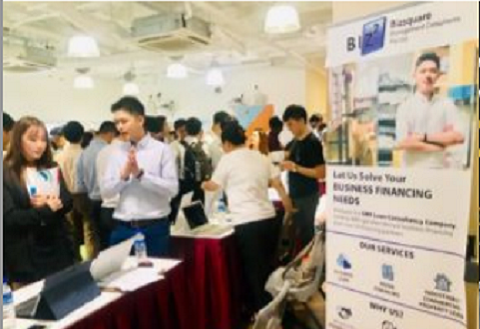 Bizsquare exhibition at
Singapore Polytechnic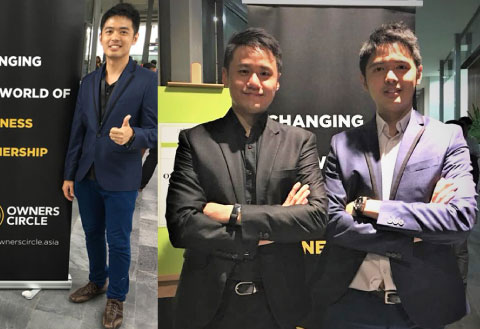 Owners circle business
course with Johnathan Quek
Bizsquare collaboration with Seed Venture. A Venture Capital firm
Global capital market
course with Patrick Liew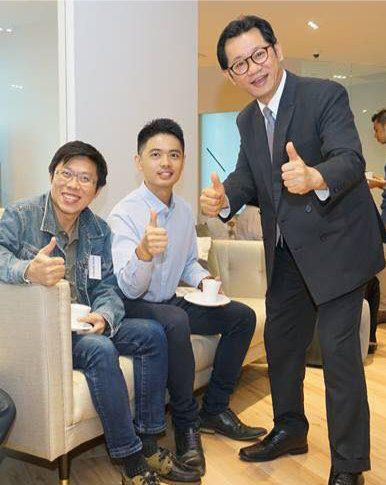 NLP Course With
Cayden Chang​
Jerome Tan Property
Investment Course
VIDEO TESTIMONIAL OF MELVIN BY OUR CLIENTS
MELVIN SPEAKING ABOUT HIS JOURNEY WITH BIZSQUARE
BIZSQUARE TEAM SPEAKS ABOUT MELVIN