WE PROVIDE FREE CONSULTATION ON
HOW TO GET TEMPORARY BRIDGING LOAN FOR YOUR FIRM!
APPLY FOR TEMPORARY BRIDGING LOAN NOW!
LET BIZSQUARE HELP YOU THROUGH THIS CRISIS
This pandemic has resulted in many companies struggling to obtain cashflow and funding. Therefore, Enterprise Singapore has came out with a Temporary Bridging Loan scheme which reduces the risk of the bank and in return, the bank will charge a lower interest rate to the business owners.
With extra support from the government, the Temporary Bridging Loan can help businesses get through the downturn.
The Temporarary Bridging Loan Programme (TBLP) will be extended with revised parameters for another six months – from April 1 to Sept 30, 2022. They were previously extended in October 2011 last year to March 31, 2022
There are 17 financial institutions (FIs) participating in this programme and the Credit criteria & interest rates are different for all banks. However, it is tough to get an approval from the banks nowadays due to the market sentiments and the strict guidelines from the banks.
In Bizsquare, we provide obligation-free consultations on how you can tap on into the different types of government support to fund your firm. We have confidence to help our clients overcome all their difficulties in getting the loan approved. Most importantly, we only charge upon success which means that our interest is in line with you.
HOW DOES THE TEMPORARY BRIDGING LOAN (TBL) WORK?
The Temporary Bridging Loan Programme allows eligible businesses to borrow up to SGD$3 million, with a repayment period of up to 5 years. Under the scheme, interest rates charged by Participating Financial Institutions ("PFIs") are capped at a maximum interest rate of 5% per annum. Depending on your company's credit history and financial performance, you may be able to enjoy an interest rate of as low as 3% per annum.
The TBLP is known as a government-assisted loan programme because the government will take on 70% of the risk-share on new loans. In the event of a default, the PFIs can make a claim against Enterprise Singapore for the unrecovered amount in proportion to the risk-share undertaken by the government.
For example, if a business takes a loan of SGD$500,000 and defaults on payments, the PFIs will first follow their usual commercial recovery procedure. Assuming that the PFI is only able to recover SGD$400,000 under its usual commercial recovery procedure, the PFI will then make a claim of SGD$70,000 (equivalent to 70% of SGD$100,000) from Enterprise Singapore.
REASONS COMPANIES MIGHT CONSIDER TAKING UP THE TEMPORARY BRIDGING LOAN (TBL)
The Temporary Bridging Loan Programme provides low-cost working capital loans for businesses during this Pandemic Period. While long-term profits are important to build a sustainable business, it's short-term cash flow that will determine if a company survives.
Temporary Bridging Loan can be used for different business purposes during this period. Expenses could include paying salaries to your workers to retain and support them during this challenging period, or other short-term expenses for the company to continue operating. This includes rental, marketing costs and raw materials that are needed for your products.
One of the good things about TBL is that you can pay-off your outstanding loan anytime with no penalty. This gives business owners the flexibility to use the loan for both short-term and long-term purposes.
CRITERIA TO APPLY FOR TEMPORARY BRIDGING LOAN
As a government-assisted loan, only Singapore companies which fulfil the following requirements are eligible to apply for this loan:
1. At least 30% of shares held by Singaporeans or Permanent Residents; and
2. Registered and physically present in Singapore.
3. Besides meeting the eligibility criteria prescribed by the Singapore government, eligible businesses will also be subject to the standard  credit assessment criteria set in place by the banks that are disbursing these loans.
While no collateral is required, banks will require a 100% Personal Guarantee for the loan. This means that if the business fails to repay the loan, the person who guarantees the loan (usually the founder or a director of the company) is liable to pay the outstanding amount. 
Interested enterprises can apply through Bizsquare.
The Temporary Bridging Loan Programme (TBLP) provides access to working capital for business needs.
BENEFIT #02
Tenure up to 5 years
BENEFIT #03
Maximum loan quantum up to S$ 3 million

BENEFIT #04
Interest rate start from 2.5% p.a. onwards
LET US GET YOUR FUNDING FOR YOU NOW!
Enabling our clients' business growth and promoting a long-term relationship with them is key. We can assist you with the necessary funding for your business needs to get through this tough time. Fill up the form below and we will get in touch with you shortly.
Easy 6 steps process, here are what you need to do:
STEP 1
Submit the loan inquiry form.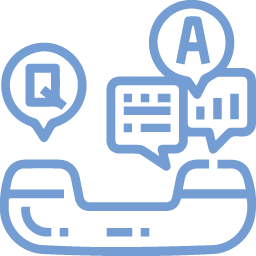 STEP 2
We'll call you within 24 hours.
STEP 3
During the call, we'll find out More about you & arrange a free 30 min consultation with us.

STEP 4
We analyse your business, your financial situation, your cashflow gap and expansion plans.
STEP 5
Present to you our recommendation on what is the best solutions for your business.

STEP 6
Loan approved. Get the funding you require and solve your cash flow needs.
HOW CAN BIZSQUARE HELP YOU?
3 Ways that Bizsquare Make Your Loan Application Easier
AT A GLANCE
New relief assistance for businesses impacted by the COVID-19 outbreak. You will be able to access working capital to bridge short-term cashflow gaps in your daily operations.
A PIECE OF MIND
Choosing the right loan package is a crucial process as it will eliminate unnecessary costs and stress later. With us, you can have a piece of mind because we are constantly updated on the finance loan packages in the market, having direct access to bankers. Be rest assured that you will not be missing out on any suitable bridging loan packages in the market
YOUR PROFESSIONAL LOAN CONSULTANT
Because every borrower is different, never rely on complicated, generic online financial tools or calculators. Securing the best bridging loan can be extremely simple and straightforward with your company bridging loan consultants who are trained to shortlist the best bank rates in Singapore and recommend solutions for you to sound financial choices.