New Updates to the Temporary Bridging Loan Programme
We have good news for you! If you've missed out previously on the Temporary Bridging Loan Programme (ended 31 March 2022), not to worry as it has been further extended for 6 months, from 1 April 2022 to 30 September 2022, with the parameters listed below.
(Above Information is quoted from Enterprise Singapore website) 
Here are some of the estimated rates from our Banking Partners (may differ on a case to case basis):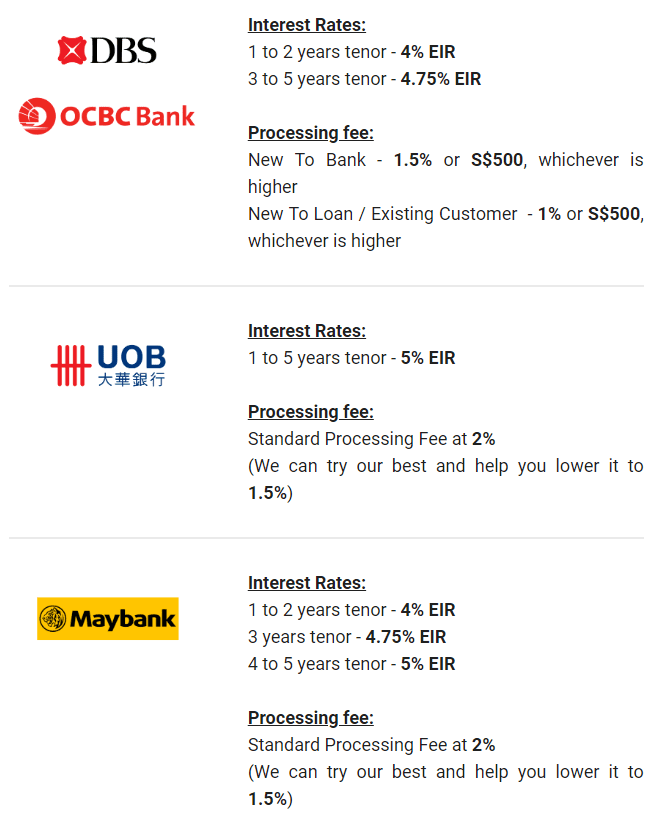 My Opinion on the above extension:
If you were to ask my opinion on the above, this would probably be the last time the government will extend the Temporary Bridging Loan. This is because the Singapore government is opening up, which leads to the rebound of the tourism industry, increased seating capacity in eateries, and ultimately, greater dining and shopping crowds everywhere. So, with the gradual recovery of the economy, it is highly likely that they don't see the need to extend the TBLP any further. As you have noticed the word "Temporary", it simply means that it will come to an end eventually.
What do I think of the changes in the Interest Rates:
The rates are expected to increase, it is just a matter of how much is the increase. From my 13 years in the corporate finance industry, a 4.75% p.a. EIR is still considered quite low for businesses.
If you are familiar with the "Microloan" in the past, it is already priced at 7% p.a. EIR, and it is a rate with the government subsidizing 50% risk share. Many business owners before the pandemic are also used to paying 8% p.a. EIR for working capital loans and 10.88% p.a. EIR for business term loans.
So if you ask me, I would not hesitate to tell you that a 4.75% p.a. EIR is still a good interest rate and the TBLP is definitely still worth taking if you need cashflow to roll or expand your business.
So what if it ends?
I predict that the government will still be giving us support, but to a smaller extent. Currently, we still have the EFS (Enterprise Financing Scheme) where Working Capital Loan (WCL) is available. The general direction for business owners would be to move back to WCL after the TBL has ended.
Currently, the WCL is priced at 6.5% p.a. EIR for some banks with 50% risk-sharing from ESG. However, the downside would be that WCL is capped at only $300k; and after $300k, you would not be able to take any more WCL, leaving you with the only option of taking a Business Term Loan.
If you wish to know more about other financing schemes from EFS scheme, such as Trade Financing, Invoice Financing, or Property Financing. Feel free to contact us or check us out here.
And of course, if you are interested to apply for a Temporary Bridging Loan, click the button below to fill-up the form and we will get back to you shortly.

For more articles, hesitate no longer and check out our socials!
BizSquare
 is a one-stop business consultancy firm providing Loan Consultancy Services, Accounting and Corporate Secretarial Services, Branding and Marketing Consultancy, Strategy Management and Start-up Mentorship.