The Impact of COVID-19 on Different Generations' Media Consumption
Has COVID-19 provided media companies an opportunity to impact a bigger audience?
Research by Global Web Index has shown that each generation, from Generation Z to our baby boomers, have increased their media consumption as a result of the outbreak.
Global Web Index found that over 80% of consumers in the U.S. and UK say they consume more content since the outbreak. Primary mediums include broadcast TV and online videos (YouTube, TikTok) across all generations and genders.
Overall, the younger generations tend to entertain themselves by playing mobile or computer games.
The reports also show that 68% of consumers are following pandemic updates online the most, where overall the World Health Organisation (WHO) is seen as the most trusted source of information regarding any COVID-19 updates.
While staying updated with the pandemic, a positive mindset and ability to switch off would definitely help people cope better from day to day. This is especially with the lockdown measures implemented.
Hence, it seems reasonable that people are more likely to invest in new subscription services since being in isolation, with almost one-third of Gen Zers considering purchasing Netflix, followed by Disney+.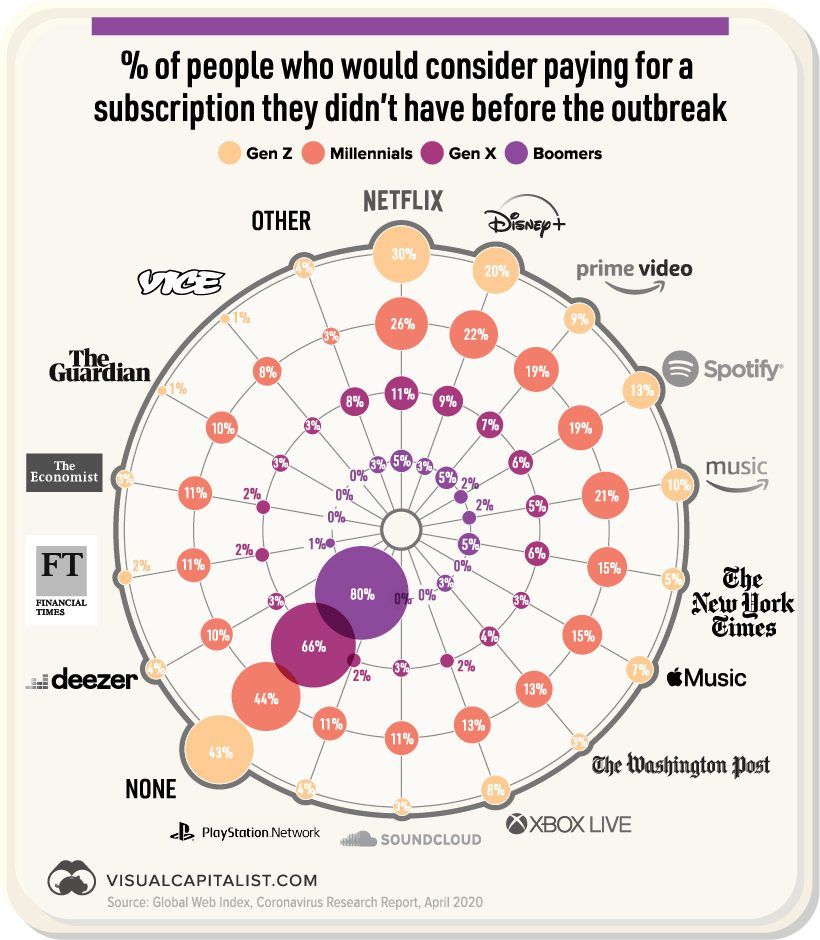 Understandably, worries of time spent on digital screens have been raised due to possible impacts on one's psychological being.
 However, research suggests that screen time itself is no cause for concern. Rather, it's the content that one chooses to consume.
Perhaps most fascinatingly, TV shows and movies that have been increasing in popularity on Netflix are about pandemics—which could signify the need for people to fictionalize the chaos we find ourselves in.
Regardless of what type of content we are consuming, the fact is that every generation is relying on their devices during this pandemic to inform and distract more than ever before, creating a huge opportunity for media companies to engage a captive audience.
Information credit to:
https://www.visualcapitalist.com/media-consumption-covid-19/
BizSquare is a one-stop business consultancy firm providing Loan Consultancy Services, Accounting and Corporate Secretarial Services, Branding and Marketing Consultancy, Strategy Management and Start-up Mentorship.
Reviewed on 12 January 2023.