Hello Business Owners! In the Budget 2022 speech, Finance Minister Lawrence Wong announced an increase in the CPF contribution rate for senior workers aged 55 to 70 years old in order to increase their retirement incomes and improve retirement adequacy. The first increase in CPF contribution rates for older workers was already implemented earlier this year, on 1st January 2022, and the second increase will be applied on 1st January 2023.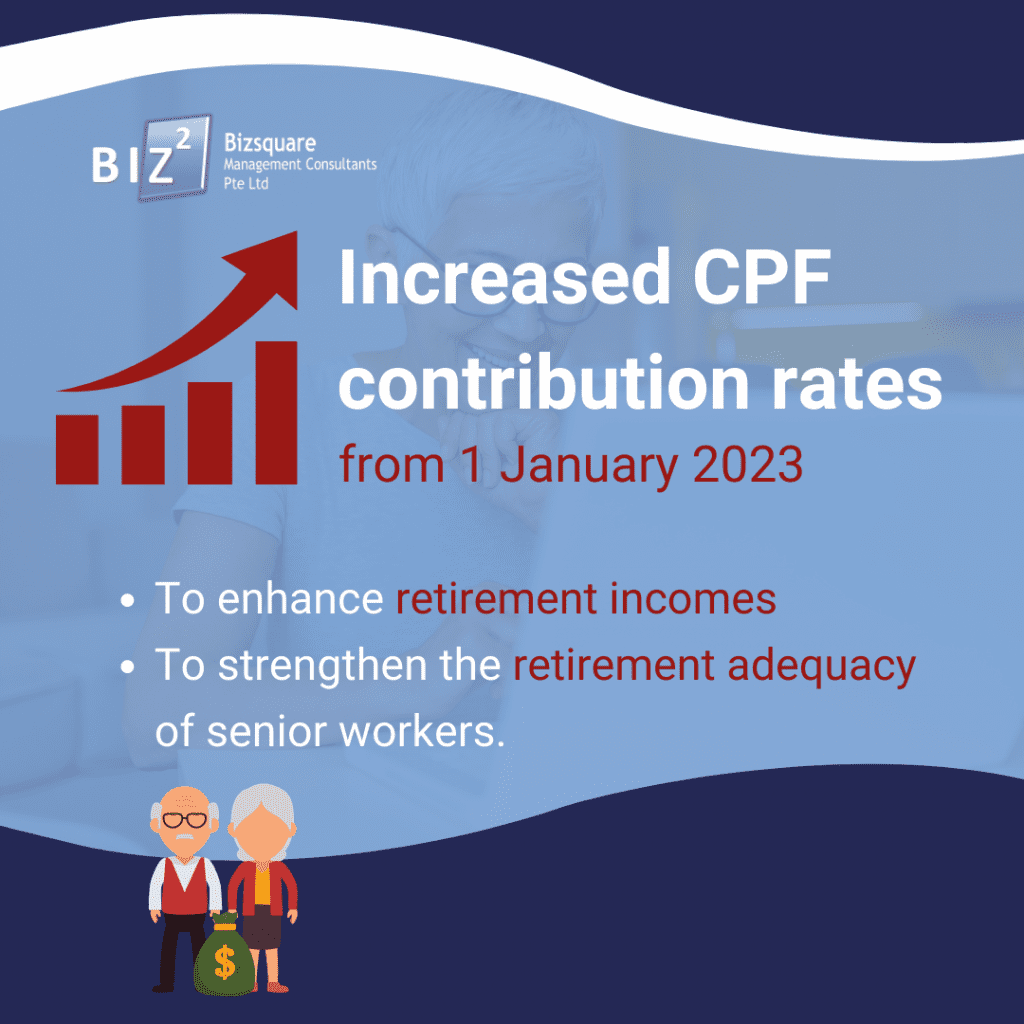 Here is a summary of the changes in the CPF contribution rates that you MUST know:
The adjustments to the CPF contribution rates that will occur on 1st January 2023 will only apply to employees aged 55 to 70, while all other age groups will remain unchanged. You can refer to the graphic below for a more detailed description of the changes.
Employees earning more than $500 to $750 per month will continue to contribute to their CPF at the same rate as before.
For Singapore Permanent Residents (SPRs) in their first and second year, the graduated contribution rates will stay unchanged. 
How does the revised CPF contribution rates for senior workers affect you as a business owner?
The increment of CPF contribution rates, which is intended to enhance senior workers' retirement income, also implies that you have to contribute more to your employees' CPF. Simply put, the adjustment in CPF contribution rates actually raises your labour costs.
However, as with this year, a one-year CPF Transition Offset (CTO) will be automatically supplemented for the 2023 increments to cover half of the increase in employer CPF contribution rates. You will not be required to apply for it. For more information on the CTO, you can visit here.
Despite the government offset, hiring senior workers aged 55 to 70 will cost you more than it did previously. While employing senior employees can help diversify the workforce, it is apparent that if you continue to recruit senior workers in the future, your operating costs will rise, making your business less profitable.
As illustrated, the cost benefits of hiring senior workers provided previously have been reduced. With the cost increase, you should reconsider recruiting senior workers. As compared to the seniors, a younger employee is more likely to possess up-to-date skill sets and knowledge, as well as be more in sync with current market sentiments. Therefore, it will be cheaper and more advantageous to hire a younger employee as you will not have to train them from the ground up.
Having said that, many seniors are constantly undergoing training classes and upgrading themselves in various areas in order to remain relevant with the current market and trends. Hence, if a senior person can deliver the same value as a younger employee, you should definitely consider hiring them. More importantly, this will also be less costly for you.
All in all, we hope that you've gained a clearer understanding of the updated CPF contribution rates that will be taking effect in the coming year and how it will affect you as a business owner. For further details on the increase in CPF contribution rates, please visit the CPF website or here.